Aujourd'hui, je vais consacrer mon article à Sophia, l'Ange-papillon dessiné par Anni Downs. Elle fait partie des nombreux anges adorables qui illustrent le livre d'Anni : An Angels Story.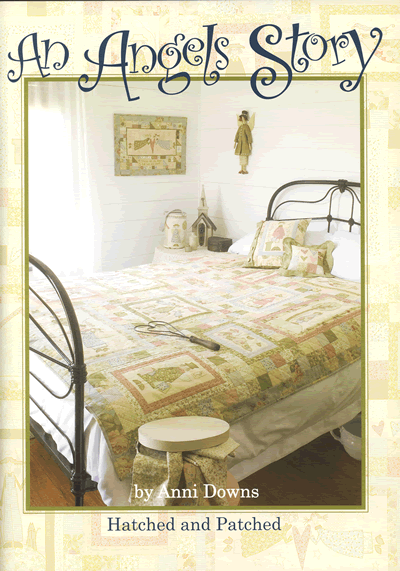 La petite histoire de Sophia a commencé le jour où ma petite nièce de 8 ans, Manon, intriguée par les ouvrages en tissu de sa tata, a fait part de son envie de posséder un petit quilt à elle

. Les anges d'Anni étaient incontournables à ses yeux

et en feuilletant le livret, son choix s'arrêta sur Sophia !! Evidemment,

un ange brandissant une baguette magique ne pouvait passer inaperçu !!

Ensemble nous avons choisi les tissus qui allaient servir à couper les différentes pièces, tout en restant dans les goûts de mademoiselle !
Quelques semaines plus tard, Sophia virevoltait au milieu des papillons, et n'attendait que le Père Noël pour se poser à côté des souliers de la petite Manon. Cette dernière trouva Sophia 'trop' mignonne et fut ravie de posséder enfin son petit quilt à elle !!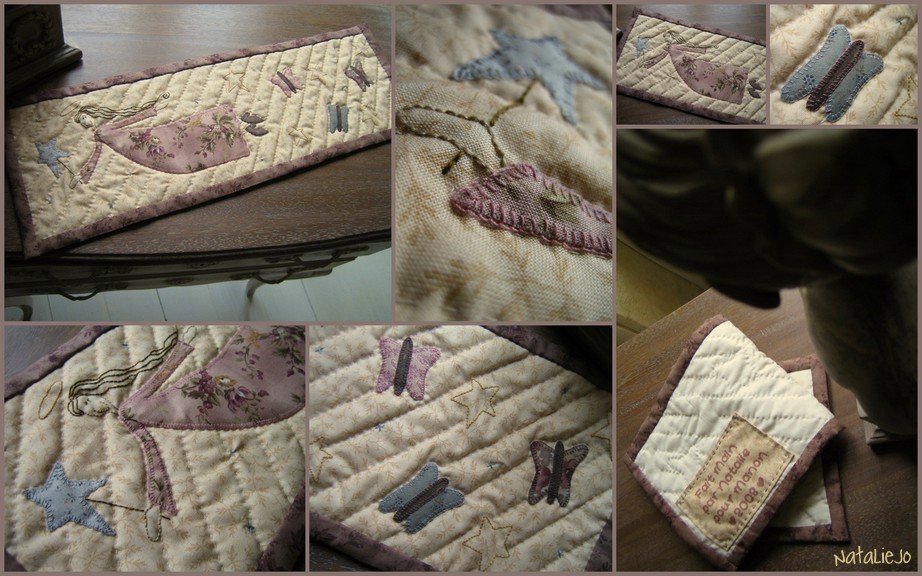 Today this entry is dedicated to Sophia, the butterfly Angel designed by Anni Downs. She is one of the lovely angels you can find in Anni's famous book : An Angels Story.
She came to life because of my 8-year-old niece, Manon, who wished to have a little quilt of her own.

She showed much interest in her aunty's fabric work so we decided on a little design that suited her tastes.
Anni's angels immediately caught her eyes and, she quickly flipped through the pages to find the perfect one !!!

Sophia was !

of course an angel with a magic wand couldn't escape her notice !!

Then we both dived into my fabric stash and picked up a few fat quarters, still according to Manon's tastes. Once she was quite pleased with her choices, I started cutting out all the pieces.
A few weeks later, Sophia was flying among the butterflies and ready to be given as a Christmas present. Manon found her very cute and was much excited at the idea of having her own little quilt, just like her aunty !!!