Voilà un mois qui vient de filer comme l'éclair ! Et même si les jours sont plus longs de semaine en semaine, j'ai l'étrange impression que le temps me glisse entre les doigts !

Disons que je suis très occupée en ce moment, dans plusieurs domaines, dont un qui ne vous est pas inconnu !!

Oui, oui, je poursuis mon aménagement et cette fois-ci, mon Atelier s'en est senti bien soulagé !! encombré qu'il était de toutes ces panières de tissus deci-delà !
Il y a quelques mois, j'ai dessiné un meuble à tiroirs qui serait parfait pour tout ranger. Puis j'ai apporté tout ceci à mon papa qui m'a aidé à donner forme à ce que j'avais en tête. Quelques semaines et de nombreuses heures plus tard, il était là à n'attendre que mon pinceau (oui... je deviens experte !)

.
Mais à ma grande surprise, les quelques heures de peinture ont laissé place à encore quelques heures... de rangement !

oulh la la !!!! quelle quantité de tissus ! je ne les avais encore jamais tous rassemblés ! Impressionnant !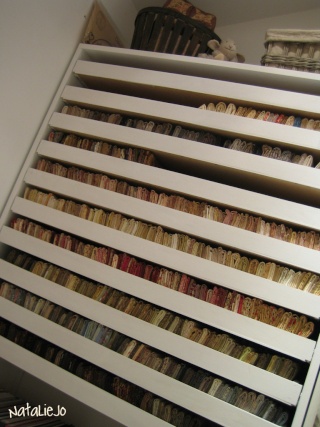 Rassurez-moi, il y en a bien parmi vous qui sont 'aussi frappés'' que moi ?? !!!!

Bon, je devrais vite aller me cacher !!

Mais avant cela, on va ouvrir quelques tiroirs pour se faire plaisir !!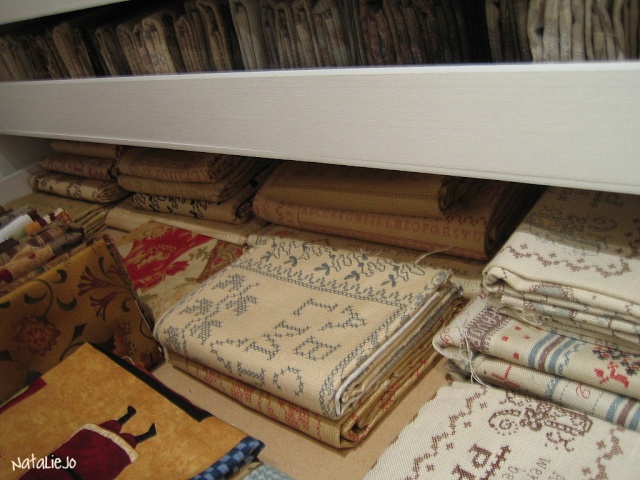 Les gris-bleu :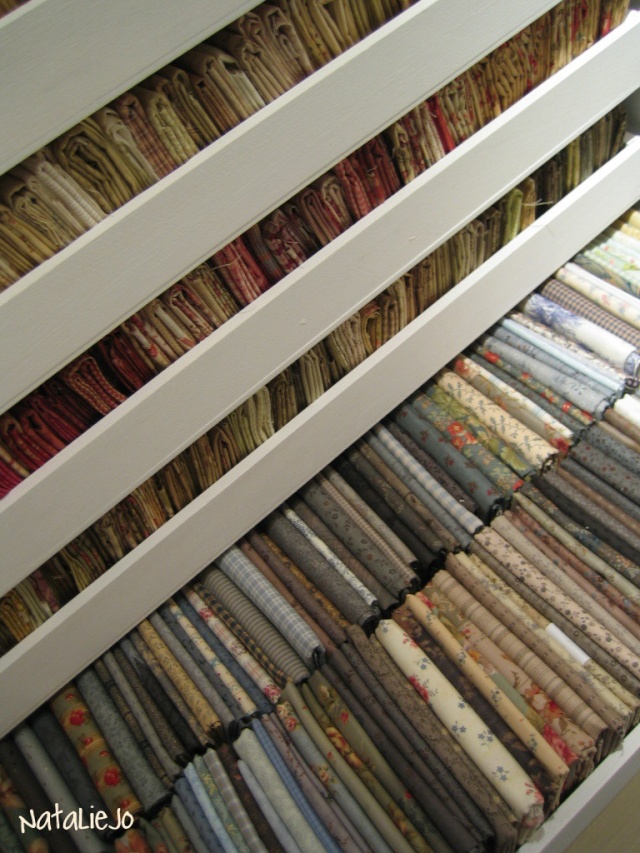 Les écru-beige :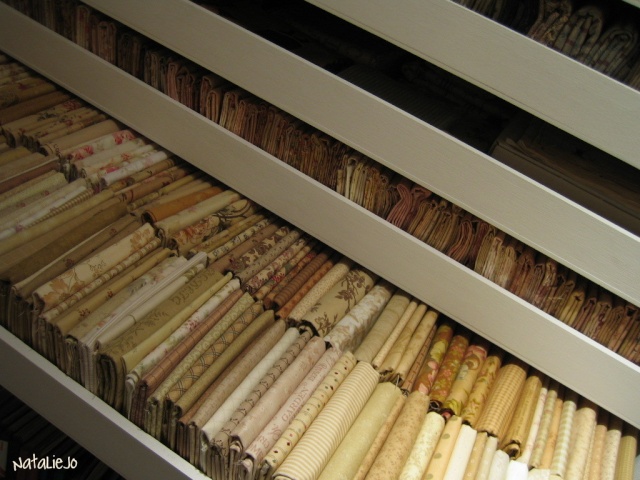 Et les petits derniers (Moda) fraîchement arrivés :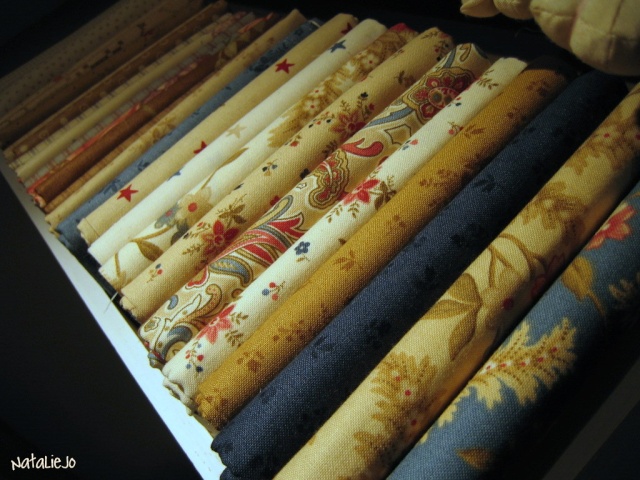 D'un seul coup d'oeil, je peux avoir une vue d'ensemble de mes trésors !!

Etre bien organisé aide à mieux travailler, n'est-ce pas ?? On dirait que je vais faire des merveilles désormais !!!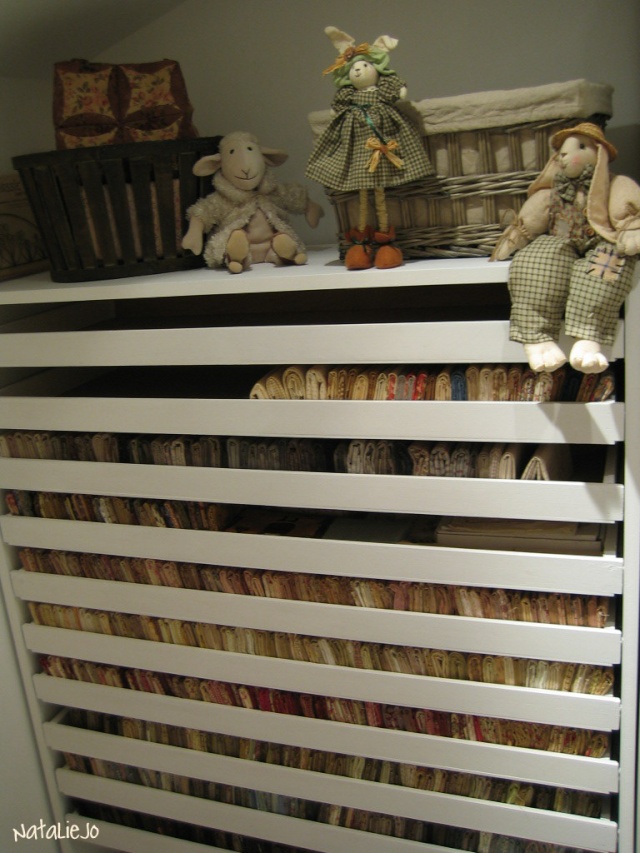 One month has just gone by without my noticing it !! Spring is here and the weather in France is getting warmer and warmer

!! I love this time of the year !

I have been soooo busy lately ! And again, I devoted part of my time to my home arrangements !!
My Atelier was so messy !!! mainly because of my fabric stash that was scaterred all around the room !

A few months ago, I designed a cabinet full of long drawers that would be perfect to put my fabric away. Then I took my sketches to my father who helped me turn my idea into a real piece of furniture !

A few weeks later, after lots of working hours, there it was ! Then it was my turn to get it painted (you know I am quite used to my brushes now !!!)

. A few more hours later, it was all white and beautiful, ready to be put in its space and be filled with lovely prints !
What I did not know was that it would take a little more time to arrange all my fabric in the drawers !!

This was the perfect way for me to realize how much fabric I had collected so far !! Impressive !!!
So here is the result of my addiction to fabric !



Yes, I should go and hide myself right away !

But before that, let's indulge ourselves with a few glimpses inside. What a treat to look at all these beauties !!

In a single glance, I can choose from so many of them ! To be organized means better work, doesn't it ? Looks as if I am going to work wonders !!