Me revoilà !!! On dirait que le beau temps ne m'incite pas beaucoup à m'installer devant mon ordinateur !!

Par contre, il fait le bonheur de mes roses ! enfin, je devrais dire : il faisait ! car hélas, elles sont toutes fanées aujourd'hui

! Mais j'ai immortalisé le moment où elles étaient joliment épanouies et où elles se courbaient tant elles étaient lourdes de pétales !

aussi ai-je pensé partager cette photo avec vous !
Il y a quelques temps, je vous montrais mes débuts sur mon sampler en gaze de soie (Mermaid Sampler by Threads Through Time), et depuis je n'ai pas arrêté d'y travailler. Aujourd'hui il est terminé !!

Ouh la la !! remplir le fond m'a pris beaucoup de temps !!!!

Regardez comme mon sampler est minuscule !
Mes ciseaux ont l'air immense à côté de ce petit morceau de gaze. Et avez-vous remarqué comme la gaze est transparente ? on dirait un voile léger !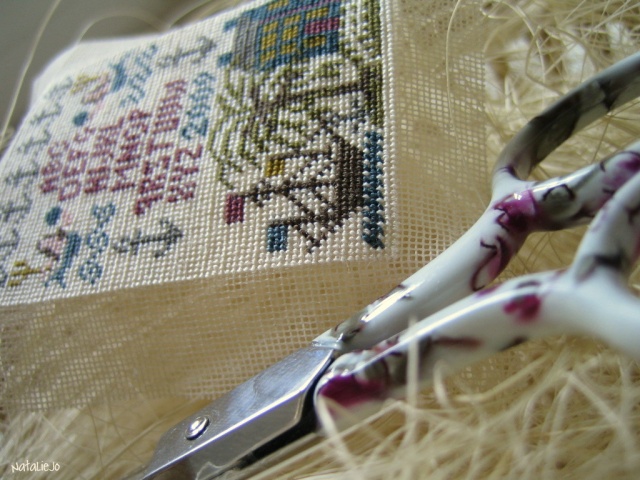 Je dois encore réfléchir à ce que je vais en faire. Aucune idée pour le moment ! peut-être simplement un encadrement ?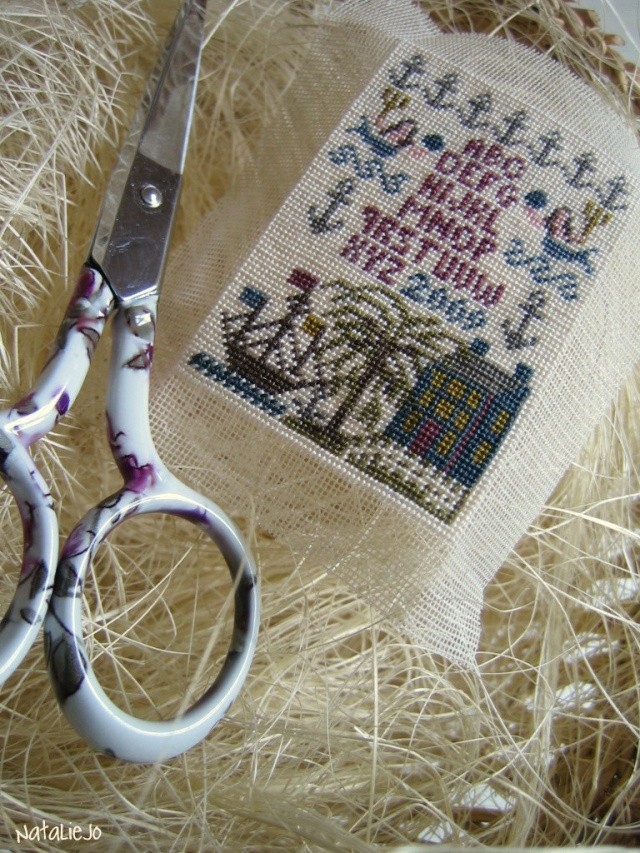 Allez, pour changer, je vous emmène avec moi à la découverte de quelques petits coins de la région. Vous savez que j'ai emménagé dans ma nouvelle maison il y a 6 ou 7 mois et depuis le printemps, je prends le temps d'explorer la campagne brionnaise. Ici, en Bourgogne Sud, les paysages sont verts et magnifiques !! c'est un régal de contempler la nature ! et l'Histoire vous arrête souvent le regard ! De nombreuses églises romanes, des châteaux somptueux, des jardins paysagers... et aujourd'hui, notre première étape se trouve à quelques kilomètres de mon petit village : un château datant du XIVème siècle.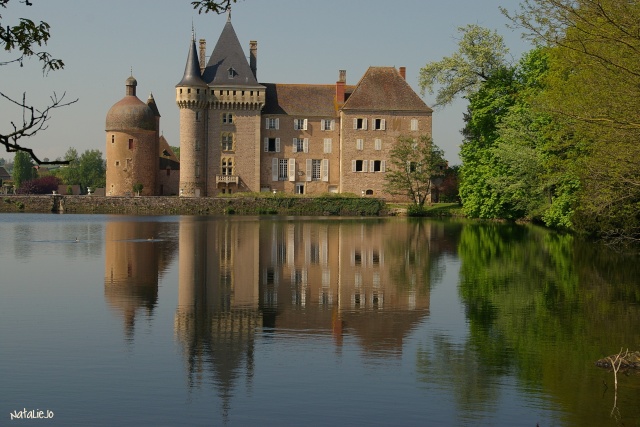 Le Château de La Clayette !! entouré d'eau... admirez son joli reflet sur l'étang !

Si vous aimez, je vous donne rendez-vous pour la prochaine étape !! La Bourgogne regorge de trésors !!





Here I am again !! seems that the sun keeps me away from my computer !!

At least, it is taking good care of my roses ! Well, I should say it is over now, unfortunately they all faded away a few days ago

! But I kept a picture of the moment when they were in full bloom and hanging heavily on their branches !

so I thought I might share it with you !
A little time ago, I showed you my first stitches on my silk gauze sampler (Mermaid Sampler by Threads Through Time) and since then, I have been working away on it. Today I am finished with it !!

Oh my ! Filling up the background was time-consuming !!!!

It is sooo tiny ! Look at my scissors on the picture, they look so big compared to this tiny piece of gauze. You may also see how transparent the gauze is. Just like a veil !

I must think about the way I will finish it. Do not know yet ! perhaps framing ?

Now for a change, I am taking you with me to a few places around here. You know I moved in my new home six or seven months ago and I have been exploring the Brionnais countryside since the beginning of spring. Here, in South Burgundy, the landscapes are so green and beautiful !! It is so pleasant to look around ! and History often catches the eye ! Lots of Roman churches, magnificent castles, landscape gardens,... and today, just a few kilometers away from my village, a castle dated from the XIVth century will be our first stop !! It is surrounded by water and here you can see its majestic mirror image on the pond !

If you enjoy it, you might like to come again to discover another place !!! Burgundy is full of treasures !!